Childrens Videos
Attention all BOOK WORMS! Do you remember a story you were told as a child? A favorite book read to you? The first book you couldn't put down? The two we remember are "The Little House" by Virginia Lee Burton and "Harry the Dirty Dog" by Zion Gene. We at Color Me SAFE want to encourage children to read. We also want to encourage parents to read to their children because there are so many emotional and educational benefits to children who are read to!
Children who read often and widely get better at it, exercises their brain, improves concentration, teaches children about the world around them, improves vocabulary and language skills, develops a child's imagination, helps children to develop empathy, creates a strong bond between children and parents, and it's FUN!
We are EXCITED to introduce Gau Go Story Time with Color me SAFE to encourage children to read and to be read to! Keep an eye out for new episodes!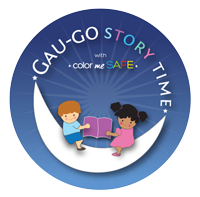 All Are Welcome
All Are Welcome, Author, Alexandra Penfold & Illustrator: Suzanne Kaufman. In this book, you will follow a group of children through a day in their school, where everyone is welcome! A school where children in patkas, hijabs, baseball caps and yarmulkes play side by side. A school where students grow and learn from each other's traditions. A school where diversity and inclusiveness is a strength! It's warm and inspiring!
The Kissing Hand
The Kissing Hand by Audrey Penn, Illustrated by Ruth E. Harper & Nancy M. Leak. This is a story of a little raccoon who confronts the first day of school and needs reassurance. Mother Raccoon finds an unforgettable way of communicating the message that everyone needs to hear.